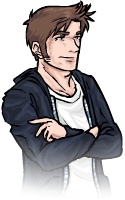 C-Mix Hiatus
by Danno on June 20, 2021
There we go! A nice, even 320 comics. I'm ready for some sweet, sweet hiatus. Cloudflash Mix will receive some new comics on Cloudflash's anniversary, August 18th. Other than that, I have no immediate plans to get it back on schedule, though I probably will at some point. My artistic efforts will now likely be directed more towards Re:Spite and miscellaneous (video game) art.
Also, I really need to get around to fixing up Cloudflash's mobile browsing experience. I kinda put it together when I was using a highly obsolete Windows phone (that's right - I said Windows). The phone I have now should probably give me a more accurate idea of what Cloudflash looks like for other people. Off the top of my head, I think the navigation buttons are squished together on mobile, so I need to space them out better. It'd probably take 5 minutes to do, but I'm just not feeling it right this second!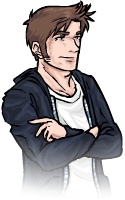 Writing Exams
by Danno on May 12, 2021
No comic for May 6th or May 13th? It would appear so. I've been busy studying for a gauntlet of 10 tests pertaining to my electrical career. 13 days of school, 10 tests - the final one being a big ol' final exam with everything on it. Or something like that.
Anyway, I was hoping to keep the comics rolling out on schedule and then call it quits at a nice, even 320 comics total, but I've just been too busy. Taking a break at #320 is still my plan - I've got other things I want to focus on. When will we see #320? I'm not really sure, maybe sometime in June. After that, we'll probably see at least 1 new comic on August 18th. Beyond that, I'm not sure when I'll get back to making comics regularly, though.
[older announcements]