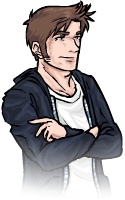 Well!
by Danno on October 30, 2021
I made a new comic for the hell of it. The final Smash Bros DLC character, Sora, was announced and released this month. I'm pretty slow on the uptake here, but what can I say? I've been busy. For many, Sora is a dream come true. For others, it signifies the death of their own dreams. Smash Bros is among my favourite games. It's been a hell of a ride, but part of me is sad they don't just keep adding characters indefinitely until I get the ones I want!
In other news, I've been thinking about shutting down the Cloudflash forum. Social media has effectively killed small community forums, I think. In today's busy life, who has time to navigate a forum, click a topic, click the "reply" button, and type up a well-thought response to be permanently etched into the internet for all to judge? And to do all this while also keeping up with their obligatory social media accounts? Impossible.
Anyway, at this point, it's needless work for me to keep the forum updated, to bother with its mobile compatibility/consistency, and to check it every so often to ensure spambots haven't run rampant. Looks like anyone wanting to be part of the community will simply have to hop on the Discord train! I can't be bothered to remove the forum right this second, though. I have too much other stuff to do!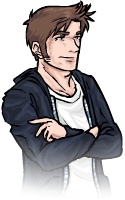 17 Years Seems Excessive
by Danno on August 18, 2021
It's kinda crazy to think I've been running this place for 17 years, but here we are. Today marks Cloudflash's 17th anniversary, so I cooked up 3 new Cloudflash Mix comics for your viewing pleasure. Hopefully I can find some time to upgrade some old comics like I did last year; my goal is to not be embarrassed by the works I display here, but some of my old comics are sullying the collection! Poorly delivered punchlines, weeb influence, ugly blue panels, or just plain crappy drawings in the early days. I probably won't make any new comics until I make more progress on dealing with the old stuff, I think.
I did a bit of work on the site! Quite rare, I know. Here's what I did:
Enhanced the Cloudflash logo. In 2015, I just kinda wrote "CLOUDFLASH" freehand and mostly left it at that. I finally smoothed it out, adjusted some details, and added a drop shadow to lift the text off the page, as they say.
Embiggened the logo and site navigation. I was trying to keep them slim before so people could see the site's content immediately without having to scroll down. It's still reasonably slim compared to the clutter on other sites, but now more readable and clickable (especially on mobile).
Simplified the comic navigation buttons. I was trying to reinvent the wheel before, foolishly. They're also fun-sized now (and clickable on mobile).
Made a lot of stuff bigger. Some of my design choices were sorta carried over from the old design, so I finally changed stuff to make better use of the screen space, including allowing a bigger space for comics. Comics will be bigger going forward (and maybe backward if I can be bothered) 'cause who wants to squint at comics?
Fixed several mobile compatibility issues and other sloppy webdesign. There's still a little work to do, it'll continue to be a work in progress.
[older announcements]