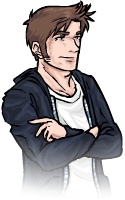 Back to the Schedule?
by Danno on November 26, 2020
I've basically been trying to maintain a weekly update schedule for Cloudflash Mix this month. We'll see how long that keeps up, I guess. It looks like I'll finally be reaching 300 comics this year, anyway. So, there should be a new comic every Thursday until further notice. To keep that going, here's#298 comin' right back at ya.
In milder news, I added a little site map thing to the bottom of the page. It's not much right now, but at least it gives you a way to make your way around the site if you happen to be at the bottom of the page.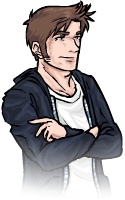 More Comic Updates
by Danno on November 18, 2020
I've been updating more old Cloudflash Mix comics. There was a time I cranked out 3 new comics per week; quite a few (C-Mix #34 through #58!) were drawn on my Nintendo DS during lunch breaks at work. I was lazy at times, recycling entire panels or not drawing backgrounds. As I improved over the years, some of my weaker comics became a bit of an embarrassment. Still, I felt some obligation to leave the comics as they were, perhaps to preserve the comics origins and my growth? Anyway, to hell with that. If I have the time and energy, I figure I might as well clean'em up to make Cloudflash Mix a better webcomic as a whole. There's no point leaving the really bad comics as they are if they don't provide the entertainment value they're intended to. I have the ability to make these comics more enjoyable through better art, writing/speech bubble placement, paneling, etc., so I might as well update them as I see fit!
Generally speaking, I'm fairly satisfied with how the comics beyond #100 look, especially after all these edits. There are at least 10 more pre-#100 comics I intend to edit. Anyway, here's a list smaller of changes lately:
#95 Giant Woman - Improved the backgrounds and shading a little more (I already revised this in July).
#105 Strong Man - Redrew female character in panel 1 (she was very flat and awkward looking), adjusted/added small details to other characters, added minor background details, redid speech bubbles, removed weeby nose bleed.
#111 Farewell - Added shading, fixed character's eyes in panel 2 (they were way off level!), fixed character's head shape in panel 3, other minor adjustments.
#112 Equivalent Exchange - Improved shading, added minor background details, fixed character head shapes in last panel.
#127 Punch Buggy - Added black & white shading to make it more readable. It was kinda tough to distinguish things when everything was just solid white.
#248 The Art of Lifeguarding - I forgot to fill in part of the lifeguard's trunks white. Oops!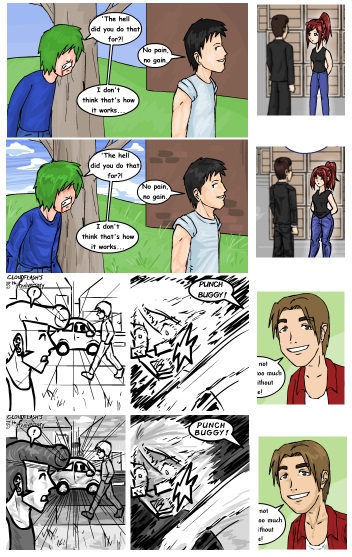 And here are some bigger changes! In some cases, I reused some of the original art, but I consider these to be remakes:
#39 Joke - No longer recycles the same art for all 4 panels. Remade to convey the joke better, new text added.
#70 Bridge - Added details and depth to characters in panel 1 and 2, remade character in panel 3, reshaded everything, remade backgrounds (I can't believe the bridges were completely flat before, you couldn't even tell it was a bridge!).
#74 Link's Uncle: Master Swordsman - Remade all characters and revised backgrounds.
#85 Graffiti - Remade everything, split text into 2 speech bubbles to make the wall of text more readable. The graffiti was originally just a regular font with minor effects added - how shameful!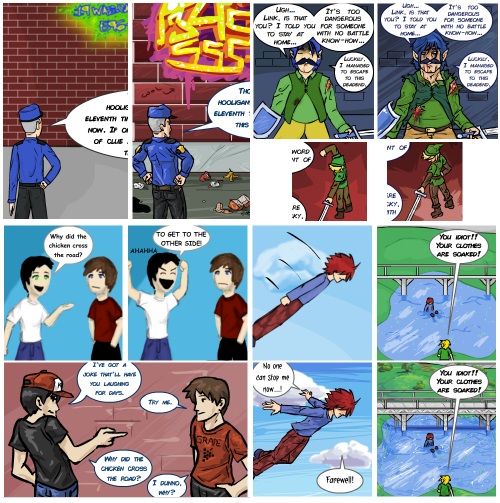 Well, that's all I have for now. I'll post a new C-Mix (#297) tomorrow.
[older announcements]