HISTORY OF CLOUDFLASH
Cloudflash 1.0 (August 2004 - May 2005)
Cloudflash was born on August 18th, 2004.
In 1999, I witnessed my older brother creating a free WYSIWYG website. I was extremely intrigued, leading me to create my own lame website. I pretty much worked on it non-stop for about a month; it was ugly and pointless, but I had fun making it. One day, I tried to log on, but was informed my 30 day free trial has expired... I had no idea what that meant at first, but soon found out it meant my site was no more. I was pretty upset...
Some years later, a certain free webhost became all the rage amongst teens online. I made a personal website of my own, "Danny7". Within a short amount of time, it ran out of storage space, so I created additional free accounts whenever I wanted to add a new section to my website; Cloudflash was one such section. Cloudflash was originally a very simple website containing a comic made out of Chrono Trigger sprites and HTML tables. As I learned how to create animations, Cloudflash then shifted to focus on short animated GIF movies. The original site had plain colours for backgrounds and simple text links to individual content pages. Before long, simple Flash animations and games were added to the site. The content pages had the Cloudflash logo at top, the movie, my comments on it, and a link back to the index. Most of the submissions were simple stick animations. Being more interesting than "Danny7", Cloudflash became the center of attention and evolved into my primary website.
The name "Cloudflash" may have originally come from Final Fantasy 7's "Cloud" and "Flash" from Macromedia Flash, the program used to make the content. I had barely played Final Fantasy 7 at the time - at first, I didn't even like the game much due to the hard-to-play-with camera angles. As for the "Flash" part, Cloudflash actually had animated GIFs, not Flash movies or games. Most of the GIFs weren't even made using Flash - I used to make them using MS Paint and some other software to compile them as a GIF. So, Cloudflash originally didn't have anything to do with Cloud or Flash. Perhaps there were loose thoughts of Flash movies being my goal, or thinking that my GIF movies were similar to Flash movies. Not exactly sure about the "Cloud" part; I guess it was just a spur-of-the-moment throwaway free website account and I liked how it sounded. Later on, a Cloudflash logo was developed using Cloud from Final Fantasy 7 and the Flash logo. I stopped using this logo before long since I didn't want to use characters from other games in my logo. Long story short, the name "Cloudflash" may have come from thoughts of Cloud and Flash or it may have just been some sort of coincidence.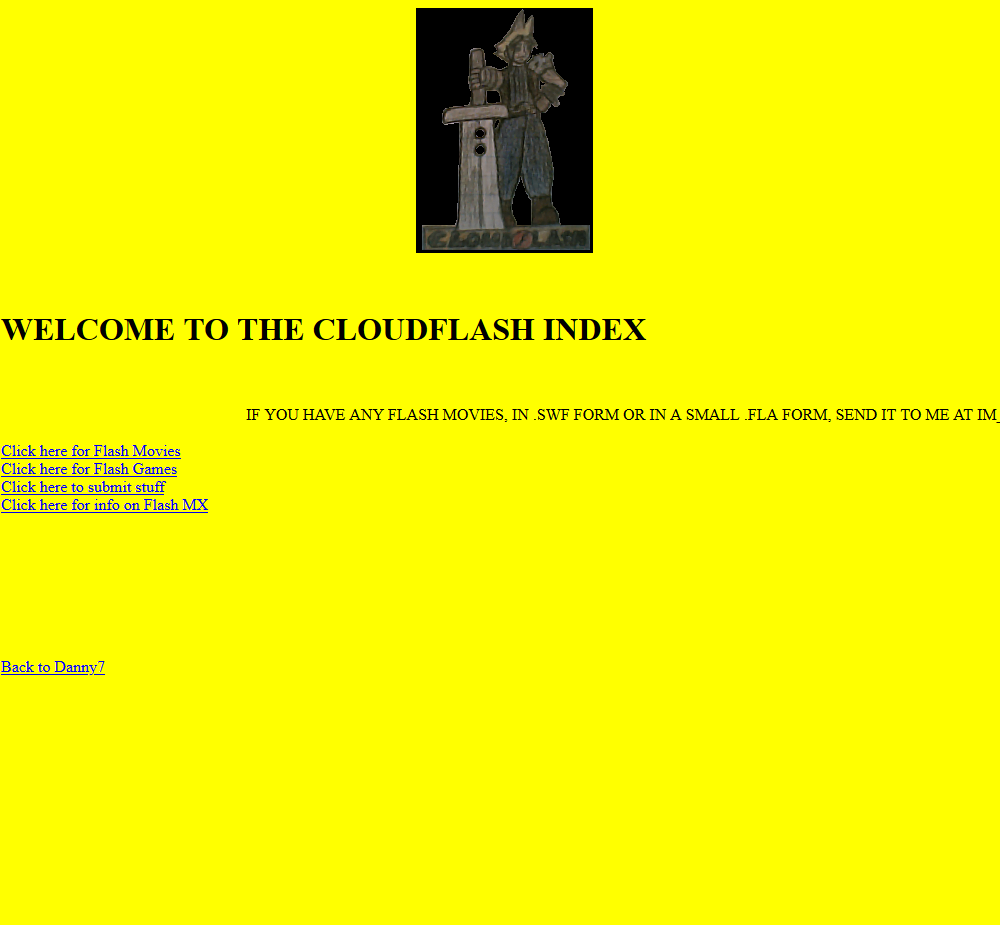 Cloudflash's earliest days.
Cloudflash 2.0 (May 2005 - March 2006)
The second version of Cloudflash brought many changes. The entire site was redesigned to be less appalling to look at. Announcement posts were introduced to the homepage, informing users of updates, changes, and new content. Background images were added to index, movie, and game pages. A single interactive Flash file was added at the top of the page for convenient site navigation. Flash submission pages gained tables, screenshots, artist's comments, description, rating, etc. From the "Other" section, new pages were brought to the frontlines, such as the "Downloads" and "History" pages. Previous submissions were reviewed and filtered to improve the quality of Cloudflash's content; that is, dozens of simple, low grade stick animations were removed. The content in Cloudflash 2.0 wasn't perfect, but it was a good improvement.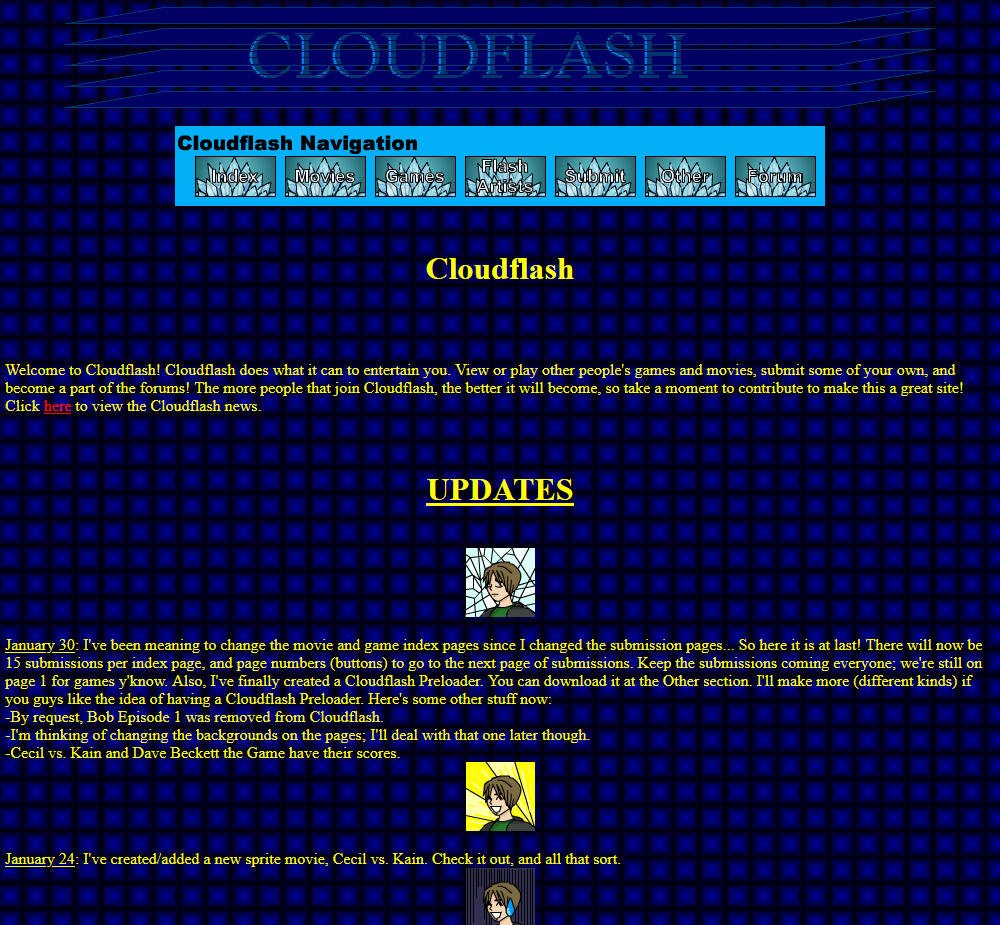 Graphics are introduced.
Archive of Cloudflash's news posts: 2005
Archive of Cloudflash's news posts: 2006
Cloudflash 3.0 (April 2006 - January 2007)
The third version of Cloudflash was another large jump from the previous version. Rather than having a Flash navigation at the top of the screen, a frame on the left side of the screen contained button links to the other pages. The right side of the page had a frame with all of Cloudflash's affiliates, and some links. There was another frame at the top with the Cloudflash logo. The center frame contained the main page content. Frames were basically individual files that were forced to overlap all pages of the website - complete with a relatively thin, but noticeable border. The framed layout also caused all URLs to be hidden, instead just displaying the website's main domain name on every page. Using a free domain name, "Cloudflash.tk", caused all URLs to be masked regardless, so it didn't matter at the time. Updates were posted on the forum with the home page of the website displaying a manually created preview; a link to the full forum post was provided at the bottom. The "Flash Artists" section had links to all of the works submitted by a particular user, as well as a small profile.
A new set of update avatars were used with this version. They were based off of a character from a comic I was planning on making. I noticed the comic was unintentionally ripping too many things off at once, so I gave up on that, but I kept the main character. The character, Kazushi, has been seen once on an "Under Construction" image on Cloudflash.
The background of this version of Cloudflash was a blue one. The center frame was two different shades of blue, striped and tiled. This made several horizontal blue lines in two different colours, each line one pixel thick. The outer frames had a checkered and darker blue colour, each checker tile one pixel in size. The third version of Cloudflash was considered to have ended when the backgrounds were changed from the blue to a red one.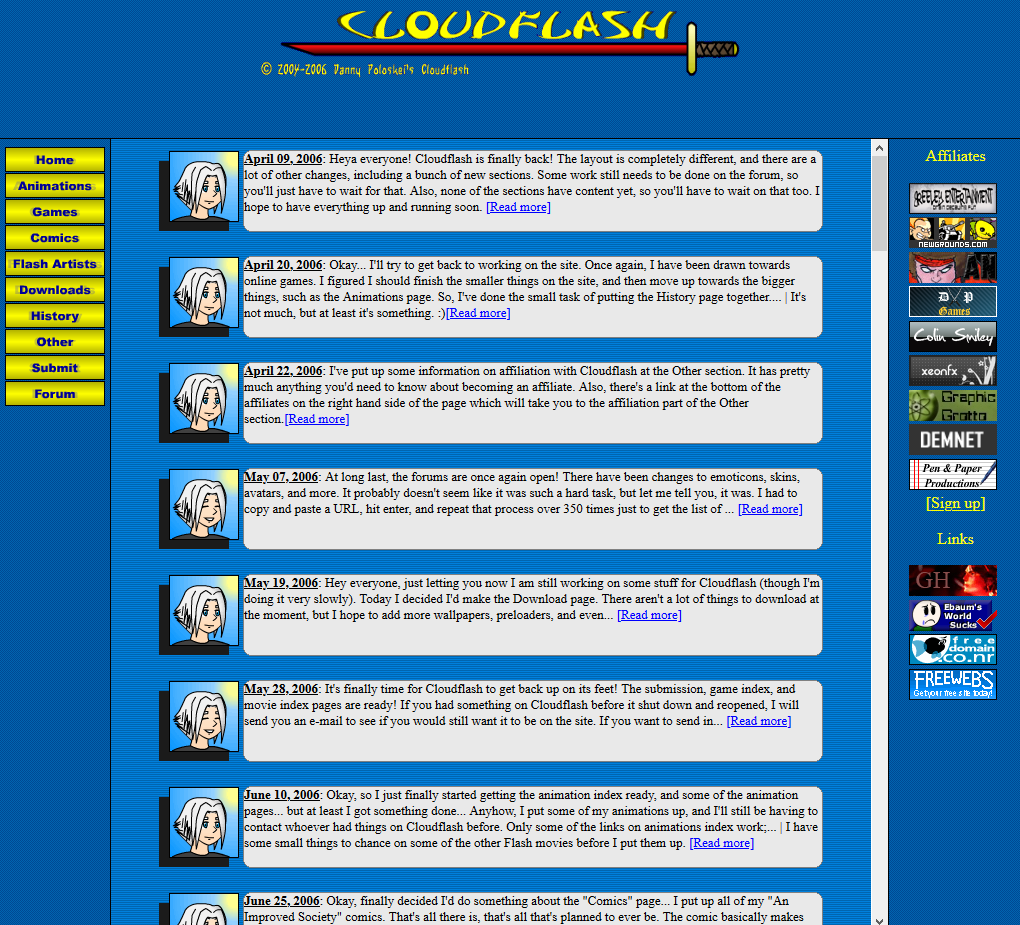 Cloudflash begins to take a more distinct shape.
Archive of Cloudflash's news posts: 2006
Archive of Cloudflash's news posts: 2007
Cloudflash 4.0 (January 2007 - May 2007)
Unlike the previous version gaps, the transition from version 3 to version 4 was gradual. At first the only real differences were the avatars and backgrounds. There were minor changes now and then. In this version it was decided that there would be 15 submissions per content index. Flash Artist profiles were linked to from the artist's "Cloudflash Name", which was shown on the content index and on the submission page. A footer image was added to the bottom of all pages including copyright information, making it easier to update it on every page. Graphics were created for different types of news posts - these would be shown with the update to indicate what general areas have been added to or updated, such as comics, games, or movies. The displayed news posts changed greatly: contained in an HTML table, the top had scrolling text briefly stating the updates; my update avatar and name to the left; the update images to the right; [View Post] and [Comment] forum links on the bottom; and a cell in the center which explained the updates in full.
The backgrounds were changed to red background images. These had more colours in them than the version 3 background images (around 3 or 4 per image as opposed to version 3's 2 colours per image) and were made up of several tiny Tetris blocks. When tiled, they just looked like a normal background. The outer frames had a darker background than the center frame.
Some smaller updates were also introduced: a newer set of update avatars based on my own appearance was put to use; a favicon was added; a new affiliate banner was created. Small Flash websites would exchange affiliate banners, often placing them in some dark corner of their website. The idea was to give each other free advertising to increase traffic, but the reality was that they were often put in the most undesirable, unvisited part of the developers' websites.
Cloudflash faced downtime between March 7 to March 25; Cloudflash's free host claimed we were out of bandwidth. It seemed unlikely for 500 MB of bandwidth to be used up in less than 24 hours for such a small website, so I moved our operation to a new, better free host.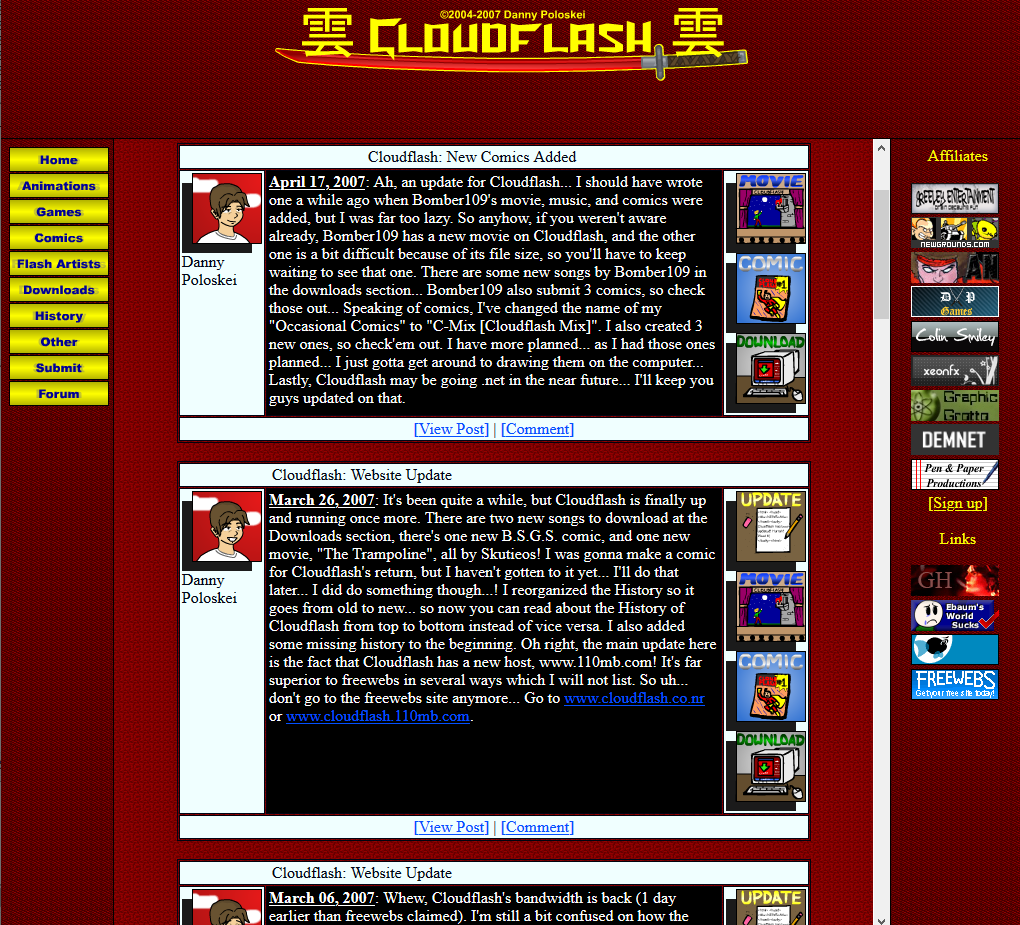 Cloudflash switches to a red theme.
Archive of Cloudflash's news posts: 2007
Cloudflash 5.0 (May 2007 - November 2019)
I discovered a way to get a free domain from a certain website, which was a pretty big deal for a teenager with no credit card (and no way to buy things online). I first tried to claim "Cloudflash.com", but some inactive website beat me to it. I saw .net as an option and thought it sounded cooler, anyway. So, Cloudflash finally went .net! I figured it would be a waste of a domain to still have all the URLs hidden by the frames. That being the case, I learned some basic CSS, some bare minimum stuff in PHP, and redesigned Cloudflash from the ground up. I learned of a proper way to utilize the idea of "frames" by using CSS and PHP, which would allow all the URLs would show! Yay! It also looked nicer and was far more efficient. I was happy to have taken the few hours to learn some CSS; it made a huge difference and was easier to use, too.
Newer site navigation buttons were created for this version, complete with mouseover effects. The site remained red, though with newer and more organized background images. The logo from Cloudflash 4.0 carried over for a while, but later changed a bit to match the sky at the top of the page. A bubble was added to the top-right corner of the page featuring a little "Cloudflash character" image.
Cloudflash's updates generally became more gradual. The site lived and breathed; it wouldn't just suddenly "evolve" from one form to another. At least, that was true for a long time - for 12 years, in fact! I grew to be disappointed with Cloudflash's outdated appearance, telling myself I'd try and redesign it since 2010. I made new plans nearly every year, but never quite followed through with it. Cloudflash had became so much bigger and more complex than it ever was, so it was a pretty big commitment to scrap it and start anew.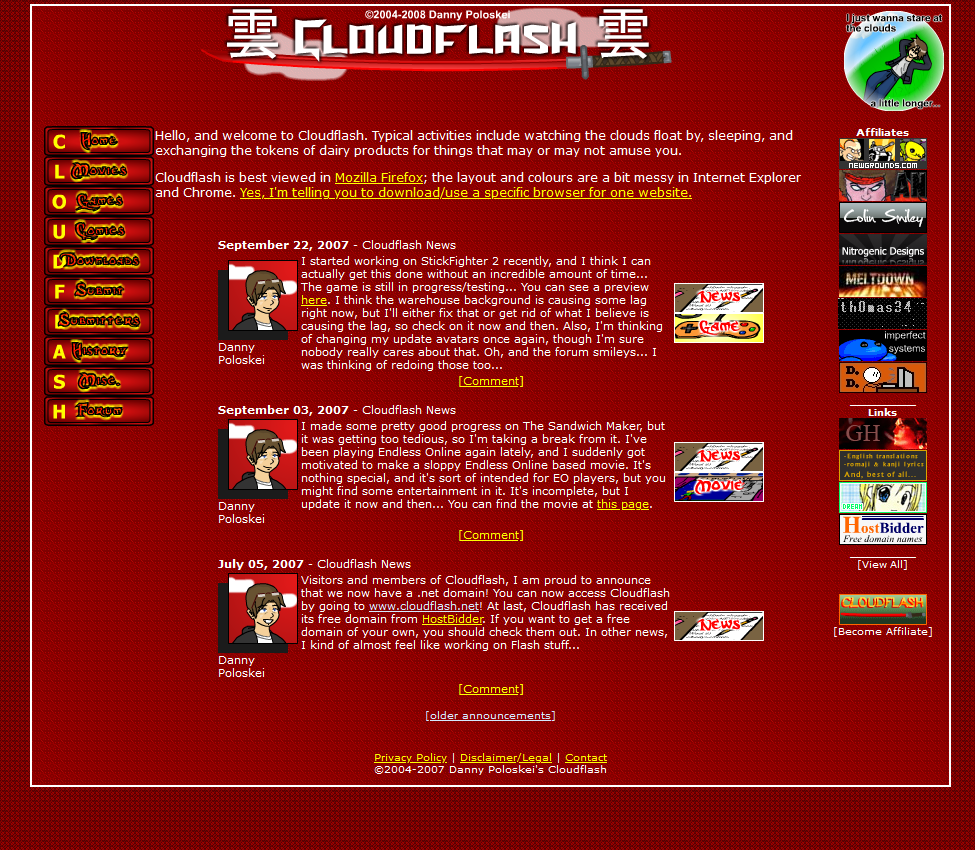 Frames are removed as Cloudflash's layout stabilizes.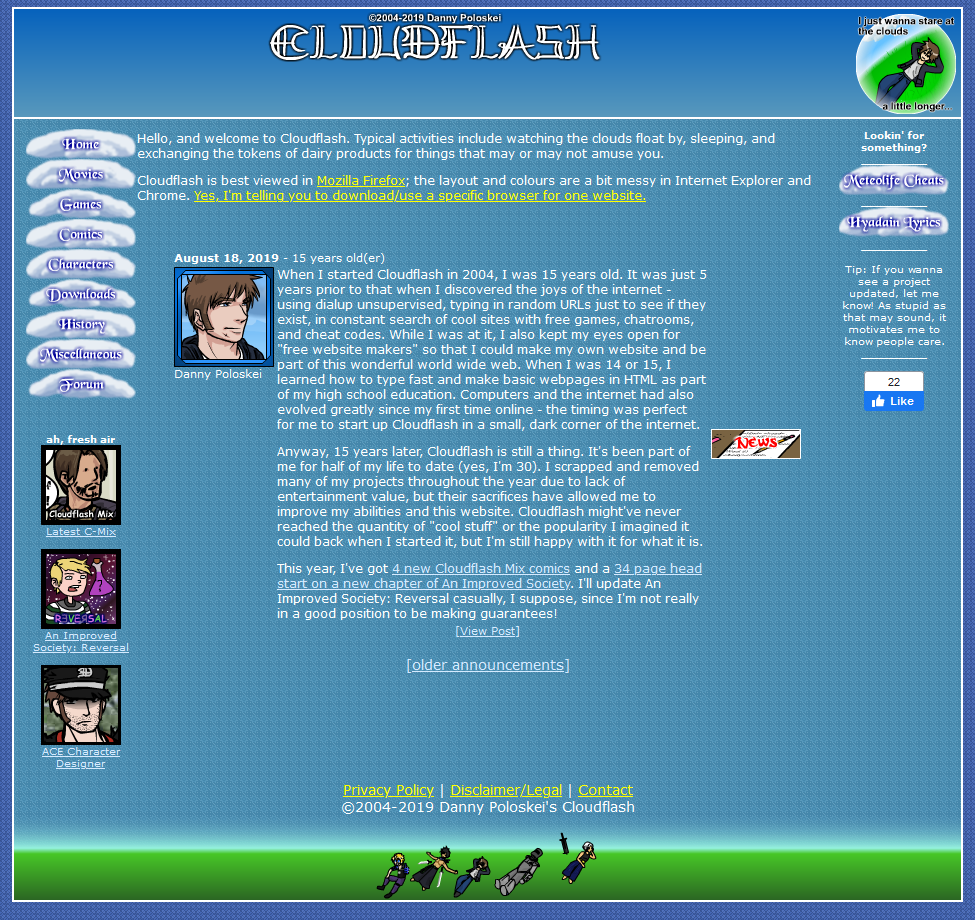 Cloudflash switches back to blue in 2008, evolves into this form by 2009, and remains fairly consistent until 2019.
Archive of Cloudflash's news posts: 2007
Archive of Cloudflash's news posts: 2008
Archive of Cloudflash's news posts: 2009
Archive of Cloudflash's news posts: 2010
Archive of Cloudflash's news posts: 2011
Archive of Cloudflash's news posts: 2012
Archive of Cloudflash's news posts: 2013
Archive of Cloudflash's news posts: 2014
Archive of Cloudflash's news posts: 2015
Archive of Cloudflash's news posts: 2016
Archive of Cloudflash's news posts: 2017
Archive of Cloudflash's news posts: 2018
Archive of Cloudflash's news posts: 2019
Cloudflash 6.0 (November 2019 - present)
At long last, I brought Cloudflash into the 21st century with a fresh look. Not having proper time available to create new graphics, the site coasted by with simple rough draft graphics on some parts of the site for about a year. Throughout the years of Cloudflash 5.0, comics gained dominance over Flash animations and games. That said, the latest Cloudflash Mix became the front page's featured content in this version while the newest announcements appear below it.
The website became more efficiently designed, reasonably mobile-friendly, and at least partially social media-friendly with better preview images showing in social media posts. URLs became more human readable and Google searchable with content titles being integrated into the URLs with no file extension at the end. A proper "Artwork" section was added to show off my best works throughout the years. The forum was updated and redesigned to integrate into the website's layout fairly smoothly.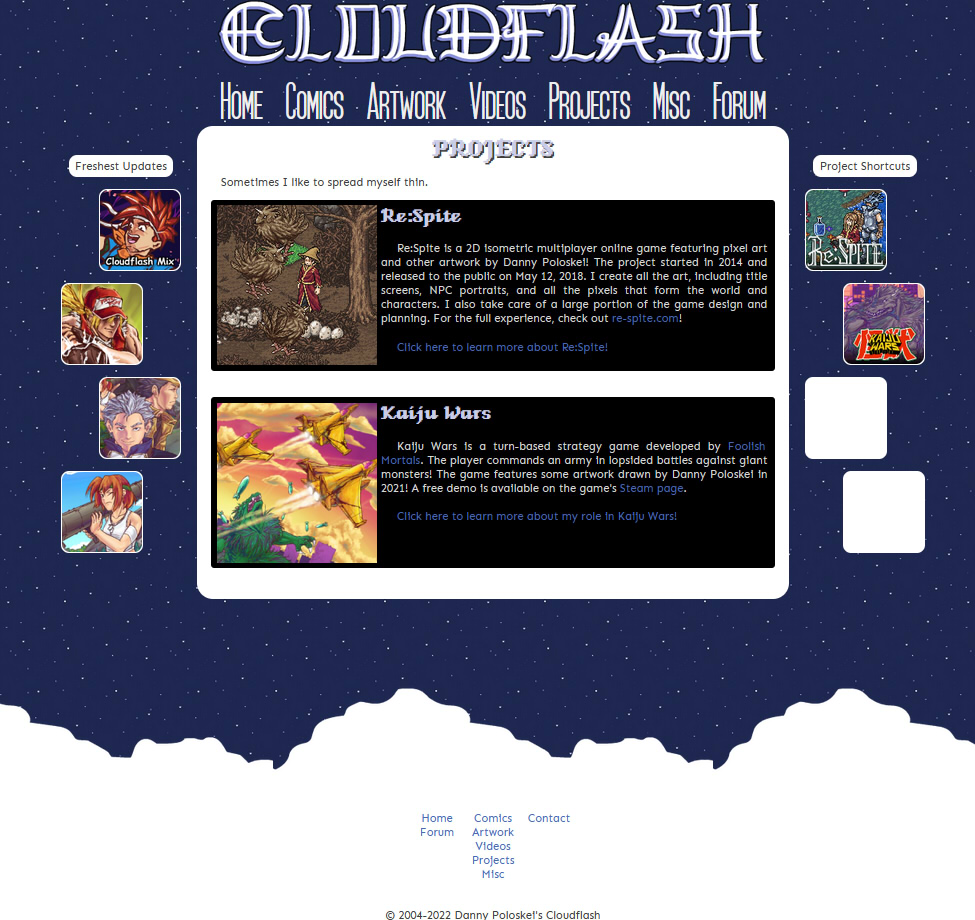 Cloudflash finally achieves a competent design in late 2019.
Archive of Cloudflash's news posts: 2019
Archive of Cloudflash's news posts: 2020
Archive of Cloudflash's news posts: 2021